I consider myself a long-term case study in intimacy. I've put myself out there and experienced the world of dating and relationships first hand as an introvert. My own trials and errors along with the countless comments, stories and wise words from the space2live community have provided a rich and deep understanding of what introvert's want in a relationship. Along with that knowledge came faceted input and requests from their partners (both introverts and extroverts). I've synthesized the love data and come up with ten simple ways to create a satisfying and sensual relationship with a soulful introvert.
10 Ways to a Blissful Relationship with an Introvert
1.  Appreciate and honor temperament differences. Merely tolerating each other's differences is not enough. Resentment or even contempt could build. Truly see the value in the way each person is wired. Examples: Admire your partner's depth in concentration rather than resenting their need for solitude. The introvert can consider their partner's request for time together as a genuine desire to connect rather than a need for attention.
2.  Indulge in meaningful and deep conversations. Most introverts lust after expansive connections. Exquisite discussions and wisdom light us up.They feed our brains and spirits and give us energy. Example: Discussing personal evolution or epiphanies gained from recent reading will score bigger points than describing what you checked off your to do list today.
3.  Establish communication about boundaries. Early on, the need for space or need for connection should be discussed. Examples: It is the introvert's responsibility to communicate when they need space and when they will be available to be fully present for their partner. It is the extrovert's job to NOT take the request for time away personally and to let us know when they need connection.
4.  Protect and respect our solitude. Introverts get energy from within. We fully participate in the world but then need quiet time to assimilate our thoughts about what we experienced. This synthesizing creates space and energy within us which allows us to venture out and give/participate again. Example: We may spend a weekend with our lover laughing, talking and taking in an activity or two. After that, we may want time alone to take on personal projects and to simply re-live the weekend in our heads. Introverts can fall in love all over again through our memories. If you protect our solitude we may return to you even more enchanted with the relationship.
5. Make our lives easier. Do this and we will have more energy to give to you. We will shower you with listening and love. Examples: Do the planning for the date. Offer us a ride to the airport. Simplify a household task for us. Free our mind of extraneous details. Keep the kids out of our hair.
6.  Introduce laughter and playfulness. Introverts can get lost in our
thoughts and seriousness. Levity and humor can surprise us and shift our focus out of intense gear. Examples: Pick us up and throw us over your shoulder when we are stewing in our own ruminations. Tickle us. Quote or act like a character from a clever but stupid movie like Napoleon Dynamite.
7.  Read space2live or other introvert-rich sites for understanding and awareness. The more you understand introversion the easier the communication and the less chance of feeling rejected. Examples of introvert websites: Sheep Dressed Like Wolves, Introvert, Dear, Sacred Introvert, Create Beyond Limits or Introvert Spring
8.  Come to us as a whole person. Please don't come to us needing entertainment or completion. That's too much pressure. It takes too much energy to be your happiness. We want to share experiences and give to you but not be your everything. Example: It's a positive sign when you have friends and outside interests. Bonus points if you have passionate endeavors that give you purpose.
9.  Be a steadfast companion. Make it clear you will be there for us. This will make us feel OK about requesting solitude because we know you'll be there when we return. Let us press up against you with our ideas and emotions while you hold steady. This will alleviate our worry that you can't handle our sensitivity and it will give us the courage and strength to be steady for you. Trust sets our hearts free. Example: Listen deeply as we describe a stressful situation with a co-worker or one of the kids and then hug us and say you will help us work it out.
10.  Stimulate our brain for ultimate sensuality. The brain is the
largest sex organ. Introverts get that. Emotional, intellectual and spiritual intimacy are big turn ons. Introverts are romantic and sexual beings. Ignite our minds and we'll respond with passion and sensuality. Example: Prime our bodies with a little verbal sexual flirtation or personal vulnerability. Both will spark physical attraction and desire. 
Most of the points listed are valuable for every kind of relationship. It may seem like we have demanding expectations but all of the items are stated with the intention that they will lead to reciprocal love and care from the introvert.
We want to be amazing partners.
We want strong and true relationships.
If you touch on a few or all of the items above, an introvert could make you feel more alive than you ever thought possible. You could find yourself in a deeply meaningful relationship.
What are the most important parts of a relationship for you the introvert? The extrovert? What ignited your most successful relationships? 
If this post resonated with you, you may also love:
Introverts Explained: Why We Love You But Need to Get Away From You
Introvert Relationships: Love Me or Leave Me But Please Don't Need Me (Too Much)
Emotional Intimacy: An Introvert's Ultimate Turn On?
Building Beautiful Introvert/Extrovert Relationships
Want to enhance your personal and relationship resilience? Please check out my book for introverts and our relationships,  The Quiet Rise of Introverts: 8 Practices for Living and Loving in a Noisy World.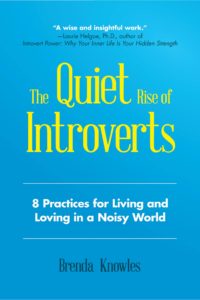 SaveSave